If you are looking for an option for getting rid of those fine lines and looking younger then you have a couple of easy alternatives to choose from, botox, or fillers.
Choosing the right treatment can be difficult, what is the best solution for you, and how do the treatments work are common questions that people ask. Here are a few facts to help you make an informed decision.
Botox

The scientific name for botox is botulinum toxin, this is a natural, purified protein that is used to temporarily relax the facial muscles that cause lines and wrinkles to appear. It is now one of the most sought after treatments to combat the signs of ageing, is fully certified, and available on prescription via a qualified practitioner. It's effective for "expression lines", such as frown and surprise lines on the forehead, crow's feet around the eyes, and "turkey neck" which is a phrase to describe lines on the throat. It is also used to treat medical conditions such as hyperhidrosis (excessive sweating) with an almost 100% success rate.
What Happens During Botox Treatment?
Firstly, make sure a qualified practitioner is involved with the treatment. The injections are a simple, painless procedure when administered by a professional but botox is a potent bacterial neurotoxin so should be used correctly. That said, botox has an excellent established safety record and is the most popular cosmetic procedure in the world.
The consultation is the longest part of the treatment, discussions where you feel the treatment is needed, followed by your medical professional's advice and explanation of the procedure can take 45 minutes to an hour to complete, the actual process takes around ten minutes from start to finish.
During the treatment session, you will be asked to make certain facial expressions which will identify any wrinkles and allow better access the muscles that cause them. Follow any instructions you're given very carefully, keep as still as you can, and you will be sure of obtaining the best results possible. The injections do not hurt, maybe the feeling of an ant bite will be felt for a few seconds but rest assured that nothing painful will occur during your treatment. A typical treatment involves a handful of injection sites that have been highlighted by the patient and will last a varying amount of time depending on the area where the botox was injected as well as the dose used.
What Happens After The Botox Treatment?
While there is no real downtime associated with this treatment, it is important to note that you may encounter some slight bruising and swelling directly after treatment, due to the needle but this can easily be masked by makeup. There are no long-term side effects of having botox injections so patients can resume their usual life again as soon as they leave the clinic.
People That Botox Is Not For
People who have medical conditions, such as damaged nerves or muscle complaints, should make sure they tell their Doctor during the initial consultation so as to avoid any complications. Treatment is also not advisable for women who are pregnant or breastfeeding, there have not been any clinical studies done that conclude that the injection is harmful to the mother or baby but medical professionals advise that having treatment under these circumstances should be avoided.
Dermal Fillers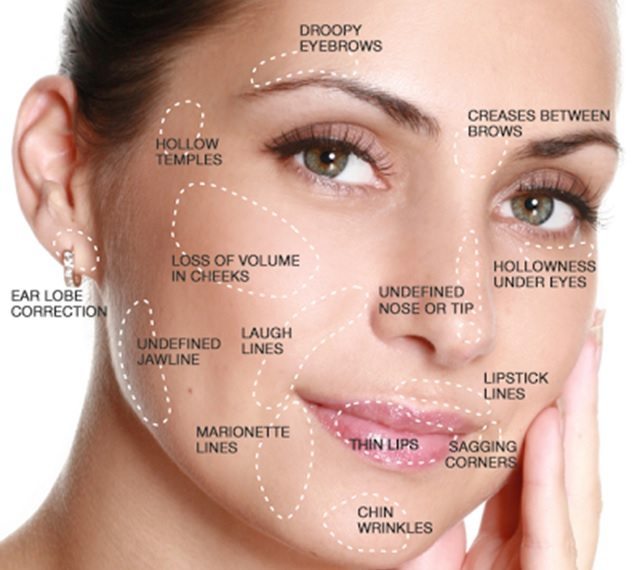 Different to botox injections dermal fillers injections do not relax the muscles that cause lines but rather fill them to create younger looking facial features. The injection of filler materials under the skin can fill in deep folds, such as nasolabial folds (also called "bracket lines", running from the corner of the nose to the corner of the mouth), create fuller lips and pad out hollow cheeks and eyes. As skin ages, it atrophies, which affects the appearance of skin under the eyes, around the lips, the chin, jowls, and the area between the nose and the mouth. Dermal fillers, otherwise known as soft tissue fillers, are the most common non-surgical procedure after botox and are typically used as part of an ongoing skin maintenance routine.
How Long Will The Dermal Filler Last?
The length depends on the materials used for the injections and the depth of the fill required. Products used for fine lines and lips usually last around 3-6 months where deeper fills last between 6 to 12 months. A synthetic filler will last 8 to 18 months. Your own body fat can also be used and as long as the body does not reabsorb it can last for several years.
Does It Hurt?
Most patients only experience mild discomfort as the needles used for dermal fillers are very fine. The procedure does not normally require anaesthesia as the amount of pain experienced by patients is minimal. Many of the dermal filler products available contain Lidocaine, a local anaesthetic, to minimise any discomfort. If required then topical numbing creams are available that can be used to further minimize discomfort when injecting sensitive areas.
Dermal Filler Aftercare
There is more aftercare with dermal filling than with botox as you would expect.
Number one is avoiding alcohol after your treatment, especially if you're experiencing swelling. This is fairly common and will subside quickly.
Avoid strenuous exercise and excessive exposure to the sun. Try to avoid the use of makeup straight after your treatment to allow your skin to breathe.
Finally, after the treatment, it's wise to avoid rubbing or touching the areas that have been injected, especially if you're experiencing a bit of swelling. Bruising is pretty uncommon but it can occur, a dab of concealer will hide that easily enough.
Dermal Fillers And Botox For Men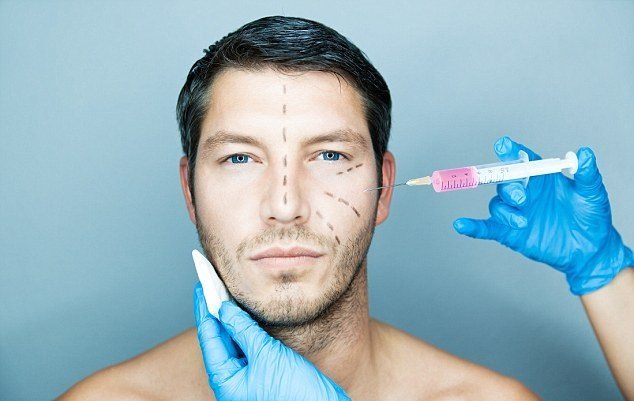 In today's high-pressure society, men are under increasing pressure to look young and dynamic as well. As men get older and time takes its inevitable toll they begin to look tired and aged, where some are happy to get the distinguished look, others may decide to take the same actions as the women and maintain a more youthful, dynamic look. Injectables like botox and fillers have been popular with women because of their effectiveness at facial rejuvenation, in recent years, a rapidly growing number of men have started to enjoy the benefits.
Whatever solution you feel is right for you, you can rest assured that you are in good hands with Tristan de Chalain.
For any advice on this or any other cosmetic procedure then please feel free to contact us on 09 522 0652 or find details of your nearest Plastic Surgical Centre for a consultation.