A forehead lift, also known as foreheadplasty, is often performed to treat conditions associated with upper facial and orbital ageing. It may be done in conjunction with other cosmetic procedures to achieve a more harmonious facial appearance. A forehead lift can raise sagging eyebrows and reduce forehead wrinkles. Younger adults who have a low brow or who already have deep frown lines due to stress or over activity of muscles may benefit from the forehead lift procedure.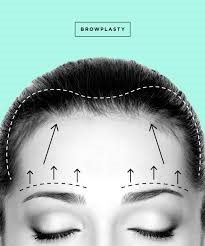 The surgery may range from minimal, as in a composite brow lift or endoscopic approach, to a full, open browlift.
Depending on what technique is called for, this procedure has the effect of tightening the skin and muscle over the forehead, thus reducing drooping eyebrows, forehead furrows and frown lines, or simply elevating the sagging eyebrow. This can create a more youthful and less severe look to your face.
Often the best results are obtained when Browlift and Upper Blepharoplasty are combined.
For more information, an animated video explaining the procedure, and to make an enquiry please click the link here